Download Pattern and Software Updates
Two different types of updates are periodically released for your hoop: software updates and pattern updates.  Software updates add new features, fix bugs, and improve reliability.  Pattern updates are packages of pattern files for your hoop.  You should make sure you have the latest software when you install new patterns, since some of the new patterns might make use of new features.
Before starting, make sure you save a copy of your config.ini file.  This has your hoop's settings.  If you have any custom patterns, be sure to back those up, too.  Everything else on the hoop can be safely deleted before you begin.  Deleting files can take a while on Gen 1 hoops.
Install the software update first, so you can delete the update file from your hoop to free up space for the pattern update.
Hoop Software Update
(updated 4/17/2017 – Version 8214)
This file contains a software update package for your Hyperion hoop. Make sure your hoop has a fresh battery installed before you begin. Save the file to your hoop's drive and then unplug the USB cable. The hoop should immediately begin the update process. Do not turn off your hoop while it displays the red-yellow-green pattern! If it gets stuck with a single blue LED on when you unplug from the computer, simply turn the hoop off and back on again. It should begin the update process when it restarts.  After the update, you can delete the .bin file.
This file contains updates for both first generation and second generation hoops.
Download Now
Pattern Collection
(updated 9/18/2017)
This ZIP file contains over 1700 patterns.  Make sure you've updated your hoop's software before moving the patterns to your hoop, and back you your config.ini file and any custom patterns you've added.  We recommend deleting everything except the config.ini file from your hoop before you get started.
Mac OS X users:  Be sure to empty the trash after you've deleted the old pattern files! If you don't, there won't be enough space for the new patterns.
Double-clicking on the ZIP file will unpack it into a new folder.  Go into that folder and drag everything to the HYPERION drive.  If you have a Gen 1 hoop, OS X will think there's not enough space for all of the files.  It's wrong.  Drag half of the folders over, and then drag the other half when that's done.  The hoop's drive is formatted differently and the files take up less space there.
Windows users:  Updates from Windows are usually easy, but Gen 1 hoops can take more than an hour to load all of the new patterns.  Open up the ZIP file and drag all of the folders to the hoop's drive.
If you end up with a folder called something like 'patterns170616′ on your hoop, you've done it wrong.  Delete it, and make sure that you're dragging the pattern folders over ('01 Chasing', '02 Checkers', etc) and not the folder (or ZIP file) that they're in.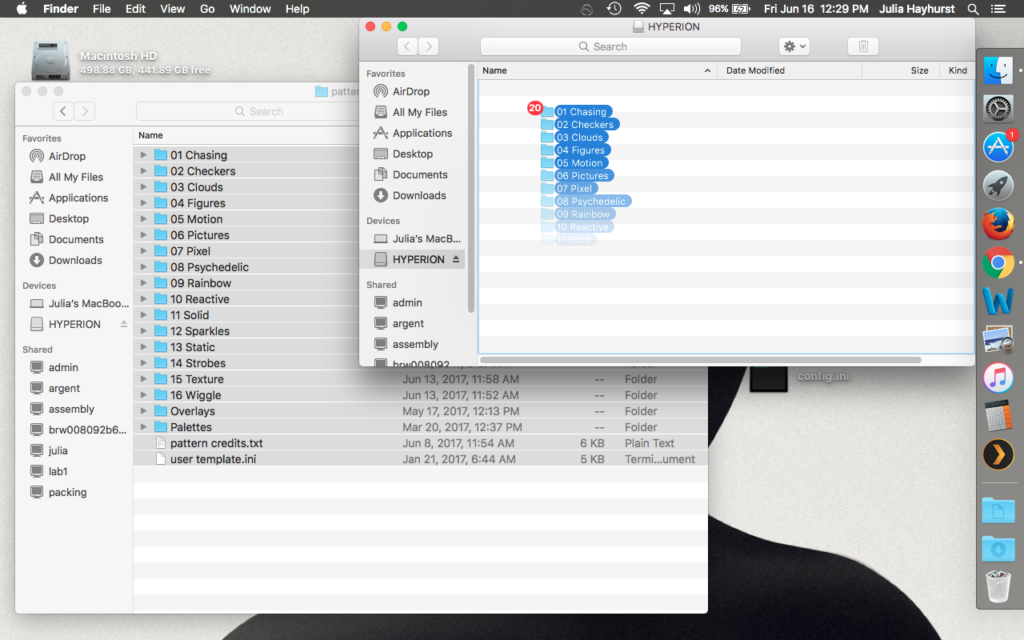 Download Now