Completely customizable LED hoops.
To check on the status of an order or to see the current wait time, visit the queue status page!

The second-generation Hyperion hoop is now shipping!
The Gen 2 hoop improves on the original with double the storage capacity, faster file loading, a much more powerful processor, more room for future software upgrades, and an improved connector design.  The new design also allows the controller to be easily removed and replaced by the user, making repairs and hardware upgrades fast and simple.
Now with fault-tolerant LEDs
The flexible LED circuit has always been the Achilles' heel of any smart hoop, with a single LED failure able to disrupt all of the LEDs after it in the strip.  The Hyperion is the only smart hoop to use a new, more reliable type of LED strip that can continue working normally even if individual LEDs should fail, so you never have to worry about a minor glitch leaving you without a hoop for a performance or a festival.
The Hyperion is your tool and we want it to be exactly what you want.
The Hyperion is designed for total customization and upgradability. The hoop you take out of the box when you receive your order is only a starting point; it comes with over 1,400  pre-loaded patterns and a list of features not matched by other hoops, and it has room for thousands more patterns – your designs, ours, or designs shared by others.  It has the ability to quickly and easily install software updates, free, with all of the latest features as we add more.
Everything about the Hyperion is completely customizable, including patterns, playlists, remote control preset button assignments, startup options, and timing. No special software or drivers are required and the Hyperion works equally well with Windows, Mac, and Linux systems – plug it in with a micro USB cable and it shows up like a flash drive.
The Hyperion Hoop works with:



Patterns
Presently we're pre-loading over 1400 patterns on the Hyperion, with more on the way. We'll be setting up a pattern sharing site to make it easy to get new patterns and to share your own. You can see some of the patterns in action (including a few created by our beta testers) here.
Any patterns designed for the SpinFX Phoenix hoop will also work on the Hyperion. Patterns are automatically scaled up or down or repeated to fit any size hoop.
Chasers and palette effects can be configured independently of pattern files, allowing a huge number of combinations of patterns, color effects, and chasers.


Motion Sensors
The Hyperion hoop includes 9 motion and position sensors (3 linear motion, 3 rotational, and 3 magnetic). This allows some amazing and unique motion-reactive modes. We're constantly adding new modes as we continue with experimentation.

LEDs
The Hyperion uses high-brightness LEDs capable of displaying over 16 million colors. A typical 32" hoop has about 155 LEDs.

Bluetooth Support
We're working on it! Hyperion hoops ship with Bluetooth hardware installed, but we're still developing on the Android app.
 
Batteries
The hoop is powered by one removable 14500 (AA size) rechargeable lithium ion battery.  Four batteries are included, plus a battery carrying case. Batteries can be recharged using the included wall charger, or when installed in the hoop, through the micro USB port.  Battery life is up to 4 hours on 50% brightness for a typical pattern.  Dense patterns on high brightness may run the battery down in under an hour.  Changing batteries takes only a few seconds.
A button on the large remote provides a read-out on the hoop of estimated battery life remaining.

Choreography
Pattern changes can be synchronized to songs using the free audio editor Audacity. Import your song into Audacity and simply hit control-B at each point you want a pattern change, and enter the pattern name on the label track. Save the Audacity project file to the hoop to use it as a timed playlist. You can cue the hoop to start based on a remote control button or motion detection.

Motion-Based Controls
We're developing motion-based controls to change patterns and settings like LED brightness through hoop motions – no need to carry the remote. The hoop has a sleep function that will turn off the LEDs automatically when the hoop is motionless. Like everything else on the Hyperion, these settings are all customizable, and can be disabled if desired.

Multi-Hoop Sync
Each hoop contains a short-range transmitter to communicate with other Hyperion hoops, allowing automatic timing synchronization between two or more hoops.

Sizing 
We measure hoops by inner diameter – that is, the distance from inner edge to inner edge across the hoop. Presently we're taking orders for sizes from 22″ to 40″. We offer price breaks on matched pairs, and other sizes may be available by special request. If you decide your hoop is too big, don't worry – one free down-sizing is provided with purchase of the hoop. Just mail it back in and specify the new size (at least 1″ smaller than the current diameter) and we'll cut it down and send it back.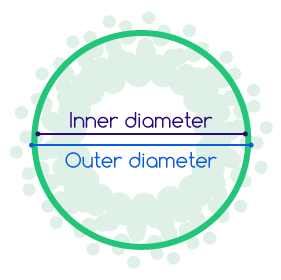 Construction
The Hyperion is available in 3/4″ outer diameter HDPE or polypro tubing.  Polypro hoops are transparent and the lights are more brilliant. However, polypro is a slightly more brittle material and will take less abuse than HDPE.  We recommend starting with HDPE for most users.
The Hyperion hoop is designed to be as light as possible.  A 28″ inner diameter hoop in HDPE weighs 9.5 ounces.  A 30″ polypro hoop is 9.8 ounces, and a 32″ HDPE hoop is 10.6 ounces. Lightweight foam holds the LEDs in place to prevent rattling while adding only a fraction of an ounce.
We can include counterweights to balance the hoop, which add a total of 1.9 ounces.  Counterbalancing is available at no extra cost.  If you decide you don't like the added weight, simply send your hoop to us and we'll remove it free of charge.
The polycarbonate inner connector design features a metal push button which allows the hoop to open and close smoothly.  Our hoops can be coiled down to 20″ across for transportation.
What's Included
Hyperion LED hoop

4 batteries with case

2-slot battery charger with car adapter

7-button keychain remote (remotes can be disabled during performance)

44-button remote

Micro USB cable

Spare remote control battery

Hoop maintenance items

One free down-sizing, redeemable any time
Software Updates
The software that runs on the hoop can be updated when new features or bug fixes are available by simply dropping a file on to the hoop over USB.  Software updates are free.
Repairs
Re-tubing and out-of-warranty repairs are available for a nominal fee.
Anti-Theft
A slot for a Kensington-compatible cable lock, a software code lock feature, and a permanently encoded electronic serial number all help to protect your investment.
Warranty
The two-year warranty covers failure of the electronics, excluding water damage or physical damage that breaks or kinks the hoop tubing.  If anything fails in the first 90 days, we'll cover shipping both ways.  For complete warranty terms, see the user's manual, available in the Support section.